Essential Business Skills Courses
Four separate courses across four days.
If you have previously completed the BSB51615 Diploma of Quality Auditing, this has been superseded by BSB50920. If you wish to upgrade your qualification, you can register today to complete the 4 essential business skills courses.
Essential Business Skills Overview
All organisations require high performing teams working together towards a common goal.  In doing so, organisations are inevitably faced with risks to their business and operations.  Organisations need to remain competitive and viable so they must continually monitor and improve performance in all areas of the business.  To do this organisations need to implement improvements and too many times these improvement projects fail to fully meet stakeholder expectations.
The four Essential Business Skills courses aim to address some of the key challenges faced by organisations irrespective of their size, complexity or tenure.
These courses target business practitioners that are looking to better manage some of these challenges.  They are also offered to auditors that would like a better understanding of these topics so that they can add more value to the organisation, improve audit outcomes and assist in the achievement of the organisation's objectives.
The Essential Business Skills courses are generally presented in the following order although the sequence is not mandatory and can be taken in any order.  The courses can also be taken individually as required.
Manage Business Risk – BSBOPS504
This training course provides an introduction into the subject of risk management and the requirements of the current risk management standard AS/NZS 31000.
The training course will benefit those people that have just embarked on a career that involves managing risk or wishing to gain a better understanding of the subject, or those who are intending to implement risk management requirements sometime in the near future.
The course content includes an overview of the history of risk management, provides an easy-to-understand explanation of the current risk management standard's content and introduces a range of strategies, tools and methodologies for people who need to implement risk management practices within their business and operations.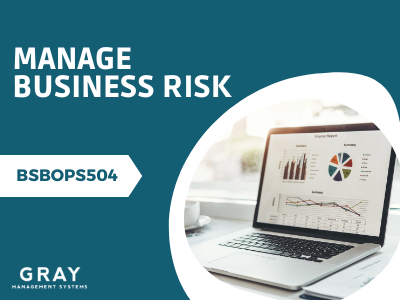 Manage Project Quality – BSBPMG532
Good project management will prevent waste and loss, enhance morale, and lead to improved levels of effectiveness and customer satisfaction.
Arguably, Project Management is one of the main skills required for the effective management of an organisation.  This is especially true of organisation's that provide project related outcomes to its customers, or, where the organisation is managing a number of business-critical internal projects.
The program includes various aspects of managing a project with specific emphasis on the quality of the project deliverables.  The program includes identifying stakeholder inputs, determining project quality requirements, performance planning, establishing processes to manage project quality, and monitoring and review and improvement of project quality performance.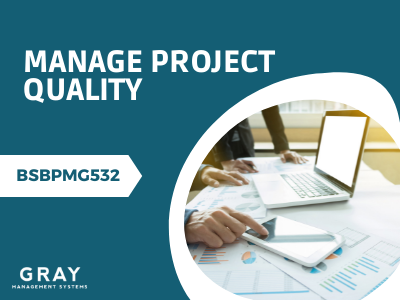 Facilitate Continuous Improvement – BSBSTR502
In order to facilitate meaningful improvement, personnel at all levels of the organisation must be engaged.
This training course introduces various improvement methodologies including best practice models, cost management and process improvements.
It also provides vital insights necessary for facilitating improvement programs and arms participants with a range of tools, techniques, and the knowledge necessary to effectively plan, conduct and implement improvement initiatives.
A key feature of this training course is the "seven quality tools".
The seven quality tools are used to study, measure, implement, and monitor improvement.  The seven quality tools can be used at all levels of the organisation to achieve practical and meaningful improvement outcomes.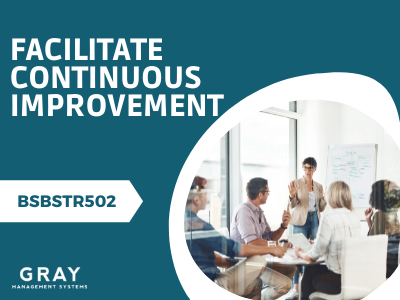 Manage People Performance – BSBLDR522
This "Manage People Performance" training program explores the subject of performance management as it relates to the organisation, and the people working within the organisation.  Emphasis is on best practice activities that lead to higher levels of performance.
This training course discusses the alignment of work requirements to the organisation's objectives, the development of work plans, scheduling, and allocation of work, establishing performance standards, agreed performance indicators, and workplace risk and legal requirements.
The course provides insights into the methods and approaches used for assessing performance in accordance with protocols and timelines, providing formal and informal feedback, and for coaching improved performance.
The course also deals with follow up activities including improvement plans, specialist assistance, recognition, counselling, and legal requirements associated with termination processes.