Compliance Webinar 2020
Thank you for attending!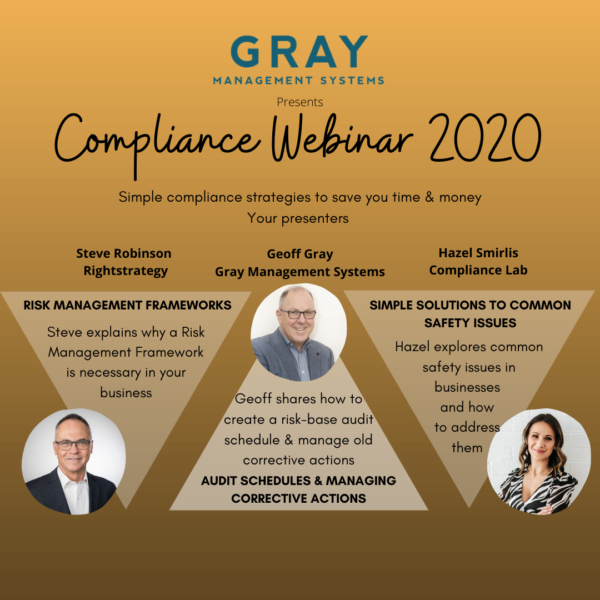 Thank you for participating in the Gray Management System Compliance Webinar 2020.
We hope you had a great experience with us and you found the presenters and the content to be engaging and helpful.
For your participation, you have achieved 3 hours of professional compliance learning and will be receiving a digital credential in acknowledgement at no additional cost.
If you have any questions, please don't hesitate to contact Loren Gray via loren@grayms.com.au.
As promised, below are some further resources and contact details for our three presenters.
Please feel free to share the webinar with your colleagues by clicking the icons below.  The replay will be available to purchase from Monday 16 November 2020.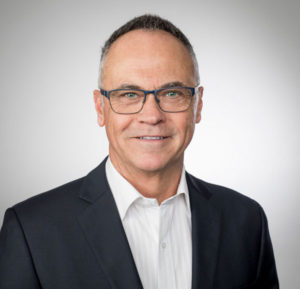 Steve Robinson
Presented: Risk Management Frameworks
Steve commenced his working life in the aerospace industry working as an aircraft maintenance engineer. This background created an opportunity to share the knowledge gained from this critical industry with organisations in other industry sectors. Since that time Steve extended his focus to include wide variety of business improvement programs for small, medium, and large corporate organisations.
He is an Industry Accredited Strategic & Business Planning Coach and has been approved by the Victorian Government to provide strategic services to industry.
Steve's work experience has included business improvement projects throughout Australia, New Zealand, Asia, and the United States.
He offers a range of training & consulting services relating to risk, quality, continuous improvement, people management & project management.
Steve is offering Compliance Webinar participants a free Enterprise Risk Management Checklist.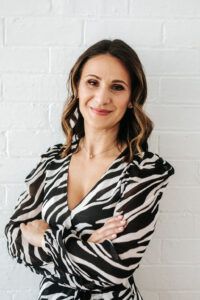 Hazel Smirlis
Presented: Simple Solutions to Common Safety Issues
Hazel lives, breathes and sleeps systems! She has 10+ year's industry experience and a 100% success rate in passing ISO certification audits. Hazel's passion for strengthening and supporting businesses is unmatched.
Hazel is fascinated with creating structures and systems to help SME's run better businesses, but her focus is on creating strong relationships with her clients that sets her apart.
Working beyond processes, Hazel empowers people to give their business an edge, no matter what industry they are in.
Hazel has a Bachelor of Applied Science, is a qualified Lead Auditor and completed training in relation to ISO 9001 (Quality), ISO 14001 (Environmental) and AS/NZS 4801 /ISO 45001 (Safety).
She offers a range of consulting services to work with businesses to identify, implement and maintain effective management systems.
Hazel is offering Compliance Webinar participants a free 30 Minute consult to discuss any safety matters you may have in the workplace PLUS a free copy of the templates she discussed during her presentation.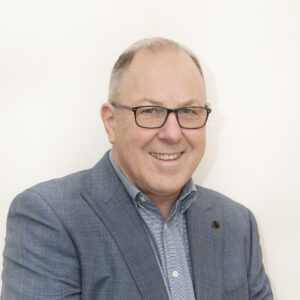 Geoff Gray
Presented: Audit Schedules & Managing Corrective Actions
Geoff has been developing and facilitating audit related compliance training programs for over 30 years. He is a practising Registered Lead Auditor with IRCA and a Fellow of the Australian Institute of Company Directors.
Geoff is the Director at Gray Management Systems and specialising in training, consulting and auditing in the compliance sector, operating as a Registered Training Organisation. Geoff offers a blend of accredited and non-accredited training. His professional, positive and refreshing approach to auditing in particular is what makes him the preferred provider to train Lead Auditors for numerous Australian certification and regulatory bodies in Quality, Safety and Environmental.
Geoff prides himself on the fact that Gray Management System graduates are highly sought after compliance auditors, working in various sectors including: NDIS, Aged Care, Health & Human Services, Aviation, Security, Food, Security, Transport, Construction and Manufacturing.
Geoff is offering Compliance Webinar Participants:
A free 30 minute session to discuss your audit schedule,
Geoff's Problem Solving Decision Flowchart and
PDF copy of his Compliance Webinar slides for your to refer back to when needed