Are you looking for a career change or to further develop your professional expertise? Do you possess integrity and great communication skills? If the answer is yes, you should consider a career in auditing.
What does an Auditor do?
Simply, an auditor is a person who conducts an audit. International guidelines ISO 19011, describes an audit as a:
systematic, independent and documented process for obtaining objective evidence and evaluating it objectively to determine the extent to which the audit criteria are fulfilled
An auditor is on a fact finding mission, not a fault finding tour. They work using a criteria-based checklist, like a shopping list that may be derived from a range of sources and should attempt to identify areas of compliance and non-compliance of a business. Auditors may conduct the audit using a range of techniques which include; interviewing staff, observing work practices and evaluating supporting documentation such as policies and procedures.
During the audit process, it is up to the auditor to gather evidence in order to report the audit findings. One of the key roles for an auditor is communication and the ability to pay attention and listen to the auditee. It makes sense considering that the word 'audit' was derived from the Latin word audire which means 'to listen'.
What are the key attributes of an Auditor?
Aside from great listening skills, an auditor needs to easily engage and build a rapport with the auditee. It is also important an auditor possesses a high level of integrity and remain impartial. This ensures audit findings are objective and uninfluenced in anyway.
In 2018, Monash University conducted a study that investigated customer satisfaction of Australian and New Zealand organisations who had undergone certification. The study found that organisations who were most satisfied with their auditing experiences, reported that the auditor:
Provided a valuable Audit Report
Conducted an effective closing meeting, explaining all audit findings clearly
Demonstrated an uncompromising commitment to quality
Possessed excellent communication skills
Were consistent in the way they conduct their audits
The auditor plays a crucial role in supporting organisations to manage their management systems. It is therefore imperative to ensure auditors are highly skilled professionals who adhere to the ISO 19011 seven principles of auditing.
ISO 19011 Principles of Auditing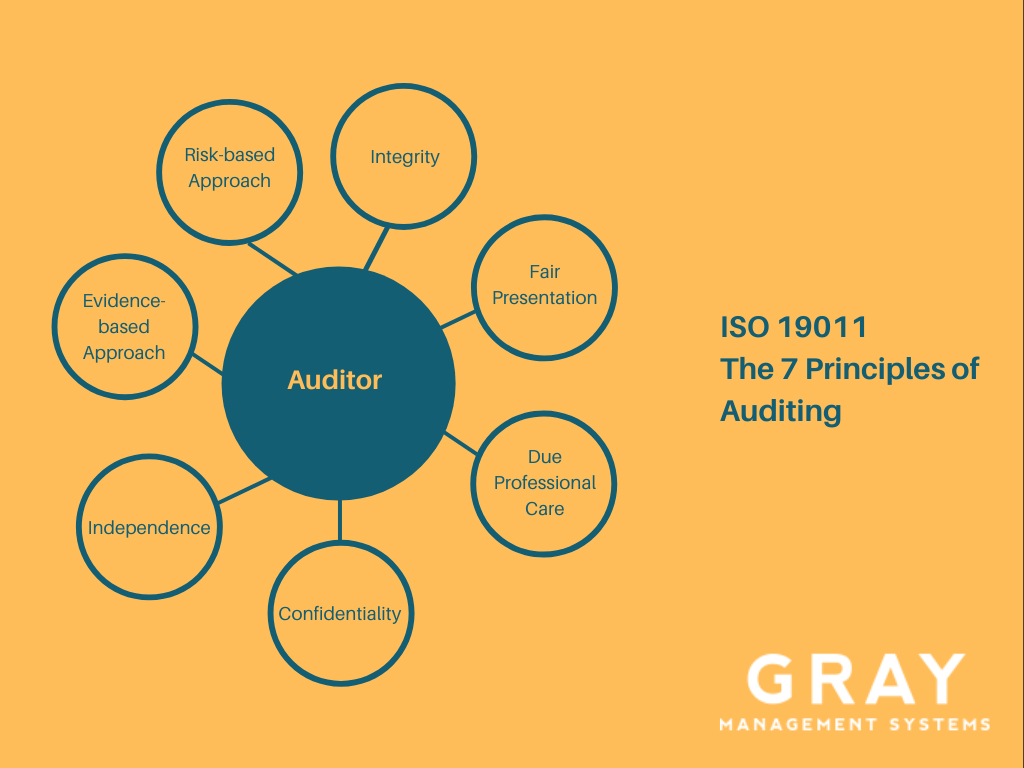 The International Standard provides that to ensure best practise, auditors should adhere to the following seven principles:
Integrity: Auditors are competent to conduct audits professionally, ethically and responsibly. They must be aware of any influences that could impact their objectivity and avoid any conflict.
Fair Presentation: Report accurately and truthfully. Communicate objectively, accurately and in a clear manner. This would include the timely communication of audit findings and the report to the auditee.
Due Professional care: Apply diligence and exercise sound judgment.
Confidentiality: Exercise discretion and ensure the proper handling of sensitive and/or confidential information.
Independence: Remain impartial and objective at all times.
Evidence-based approach: To provide reliable and accurate audit findings, conclusions must be based on facts, not opinions.
Risk-based approach: Conduct the audit in a manner that considers risks and opportunities.
The principles are crucial to ensure that an audit remains an effective and reliable method to support management systems and provide opportunities for continuous improvement to businesses.
What qualifications do I need to become an Auditor?
If you wish to work for a certification body or a regulatory body as an Auditor then you need to obtain a Lead Auditor qualification.
If you would like to know more or are interested in becoming a Lead Auditor, please visit the Lead Auditor Course page or contact us.